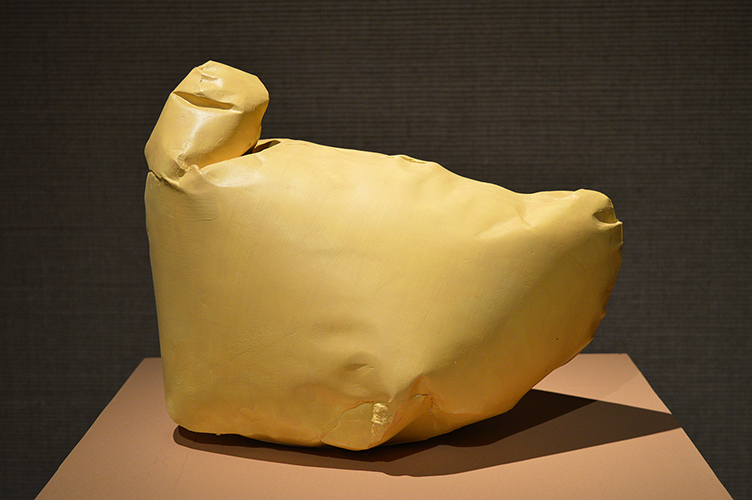 Installation of
Free Range
Plaster, foam, acrylic paint, pedestals
2016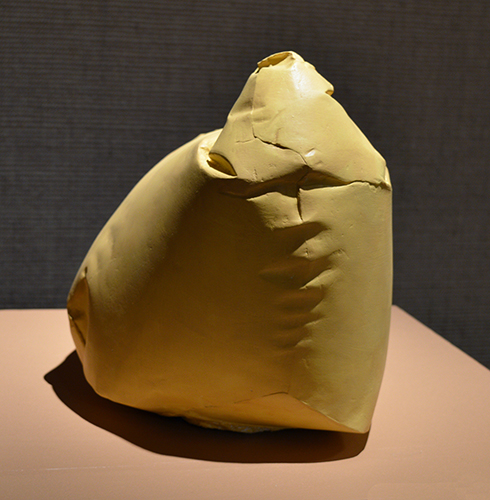 Installation of
Free Range
Plaster, foam, acrylic paint, pedestals
2016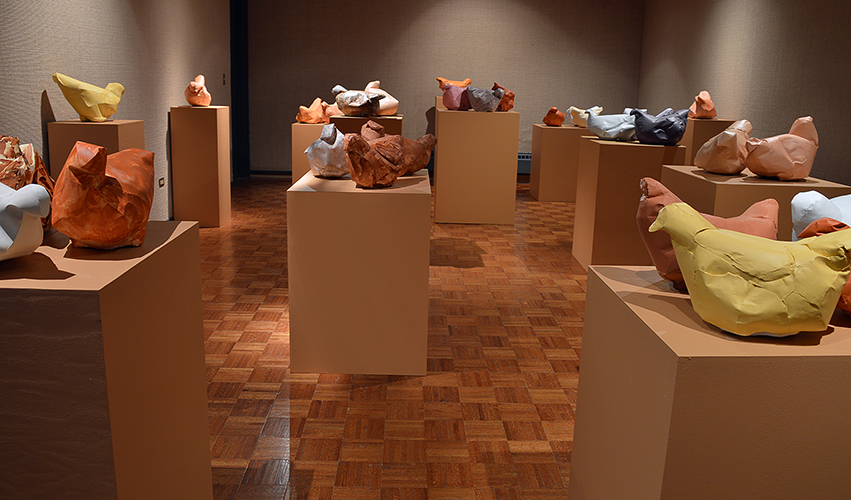 Installation of
Free Range
Plaster, foam, acrylic paint, pedestals
2016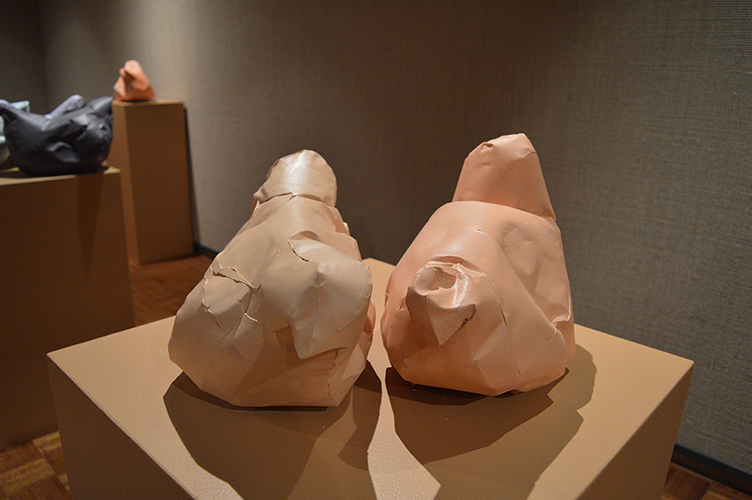 Installation of
Free Range
Plaster, foam, acrylic paint, pedestals
2016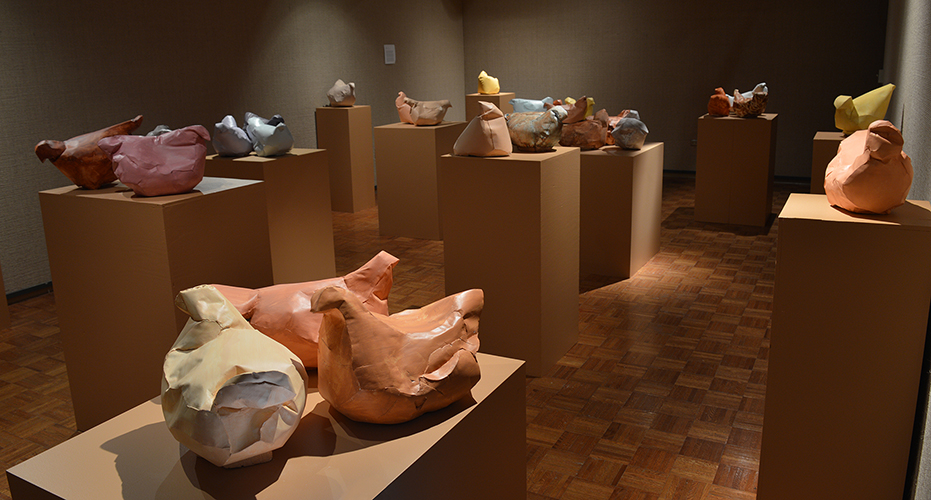 Installation of
Free Range
Plaster, foam, acrylic paint, pedestals
2016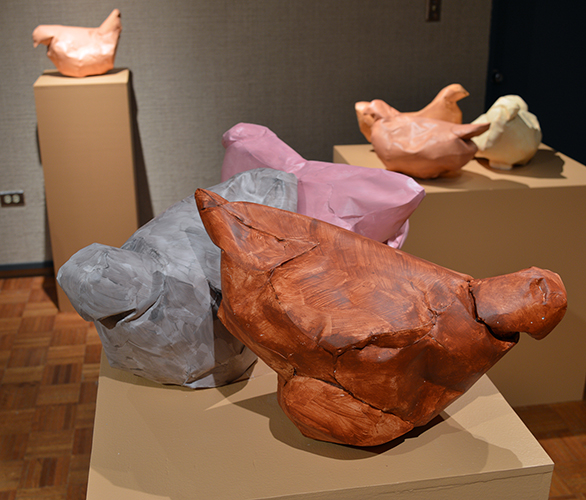 Installation of
Free Range
Plaster, foam, acrylic paint, pedestals
2016
Installation of
Free Range
Plaster, foam, acrylic paint, pedestals
2016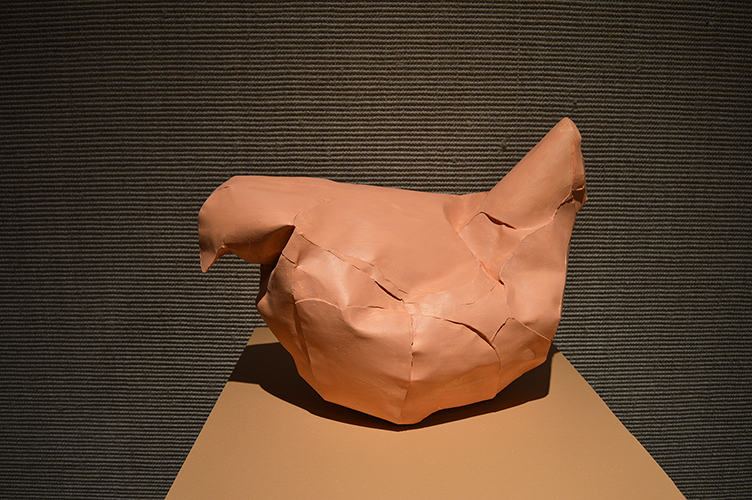 Installation of
Free Range
Plaster, foam, acrylic paint, pedestals
2016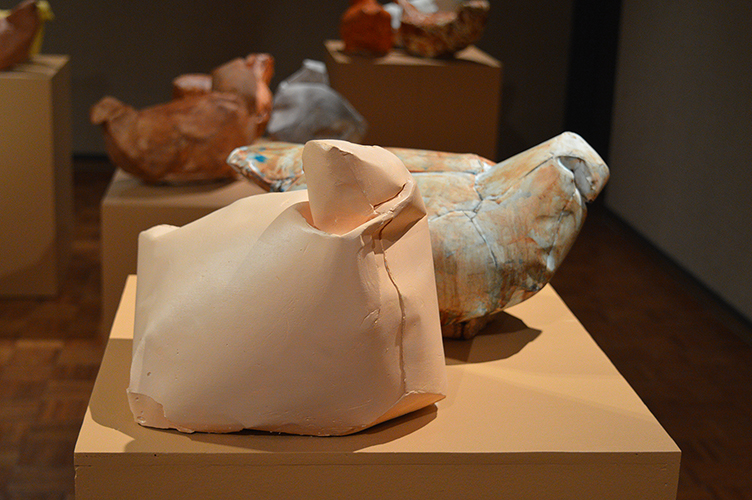 Installation of
Free Range
Plaster, foam, acrylic paint, pedestals
2016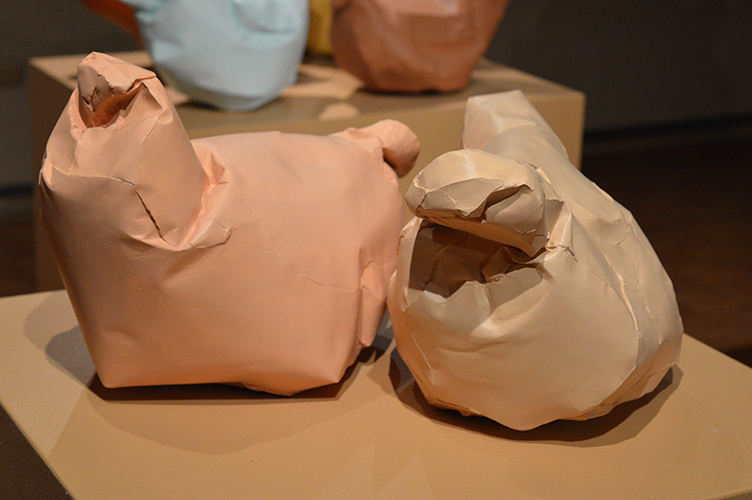 Installation of
Free Range
Plaster, foam, acrylic paint, pedestals
2016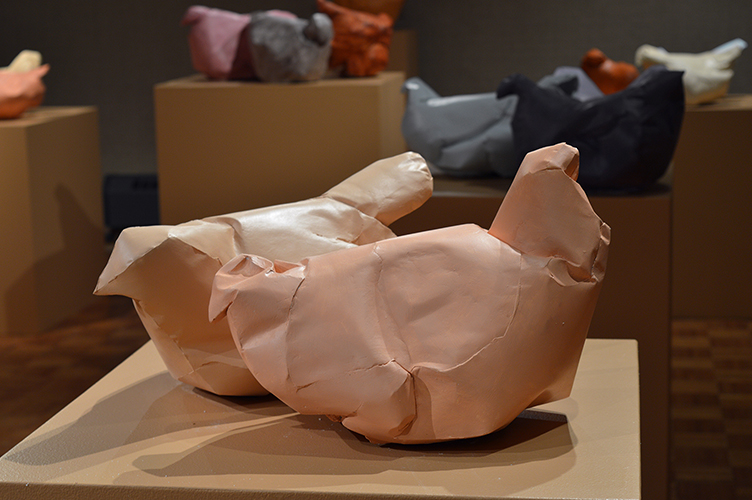 Installation of
Free Range
Plaster, foam, acrylic paint, pedestals
2016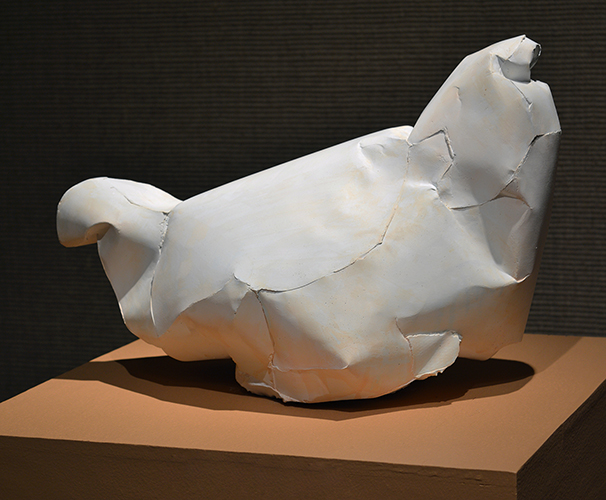 Installation of
Free Range
Plaster, foam, acrylic paint, pedestals
2016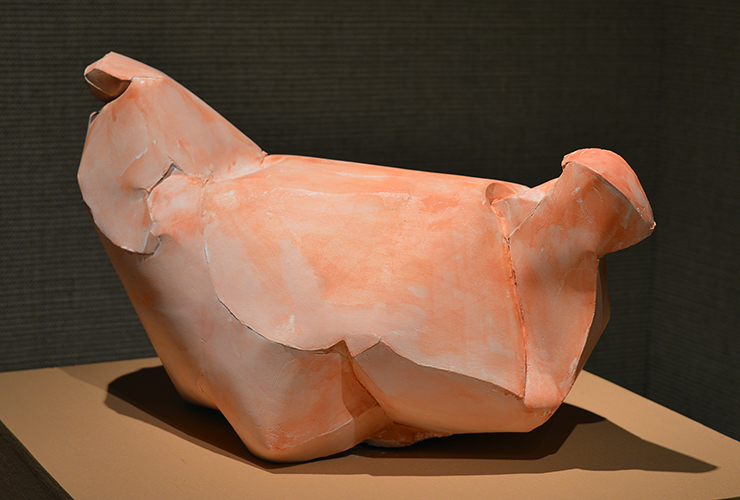 Installation of
Free Range
Plaster, foam, acrylic paint, pedestals
2016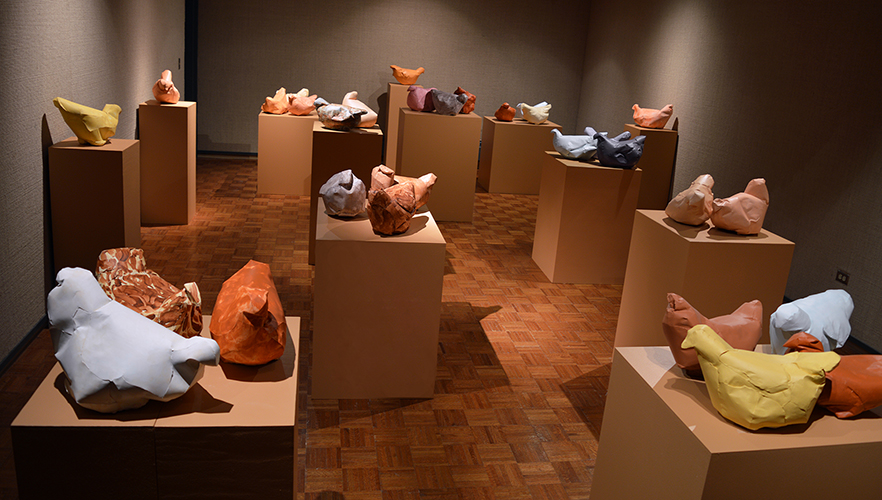 Installation of
Free Range
Plaster, foam, acrylic paint, pedestals
2016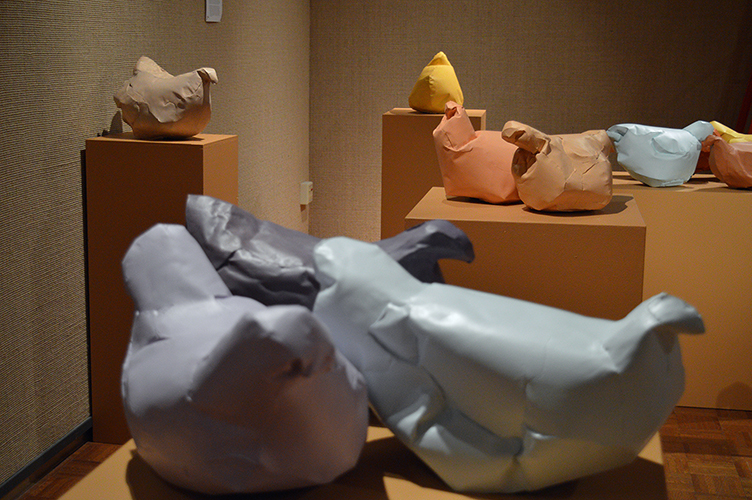 Installation of
Free Range
Plaster, foam, acrylic paint, pedestals
2016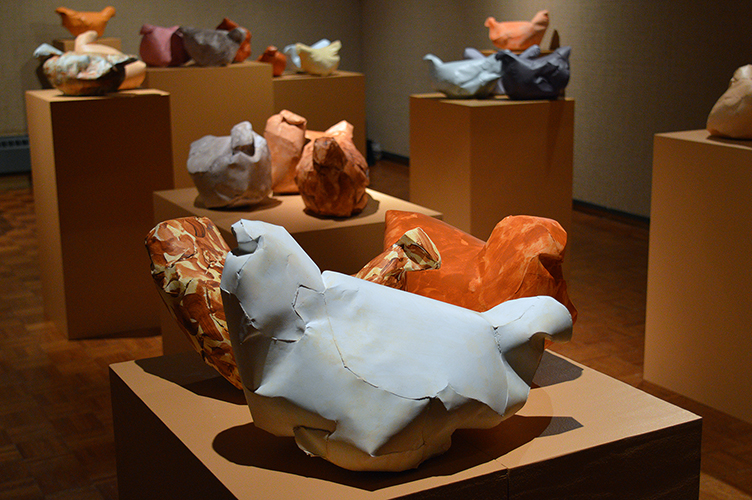 Installation of
Free Range
Plaster, foam, acrylic paint, pedestals
2016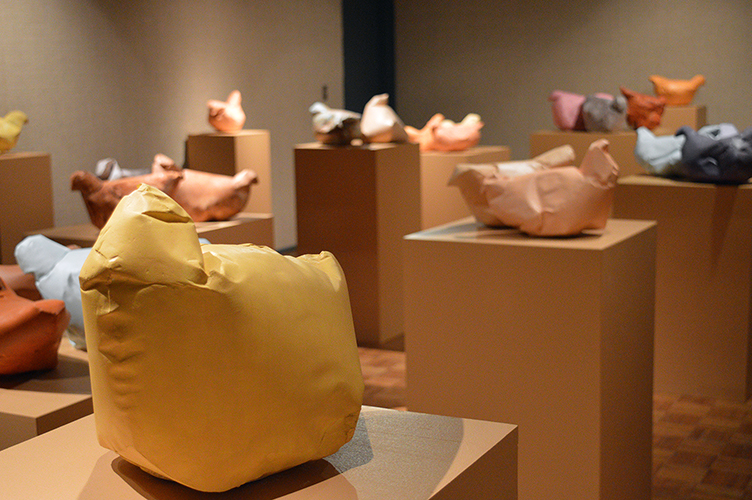 Installation of
Free Range
Plaster, foam, acrylic paint, pedestals
2016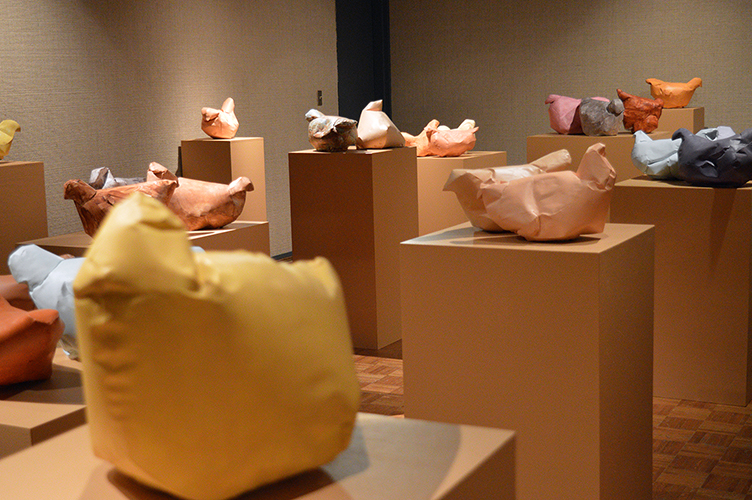 Installation of
Free Range
Plaster, foam, acrylic paint, pedestals
2016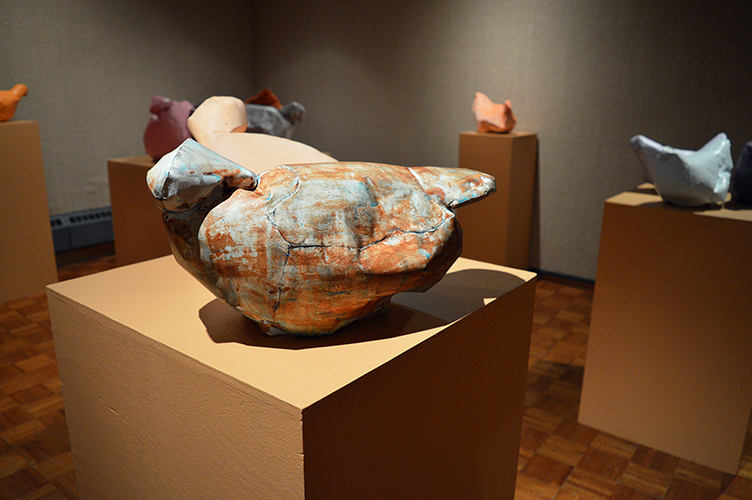 Installation of
Free Range
Plaster, foam, acrylic paint, pedestals
2016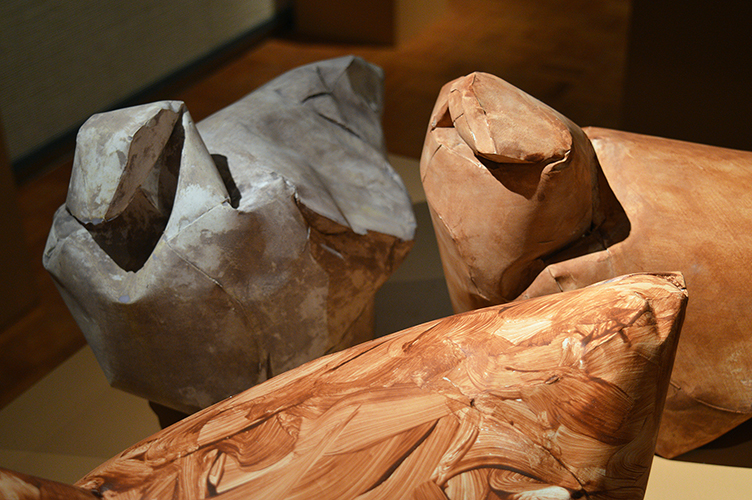 Installation of
Free Range
Plaster, foam, acrylic paint, pedestals
2016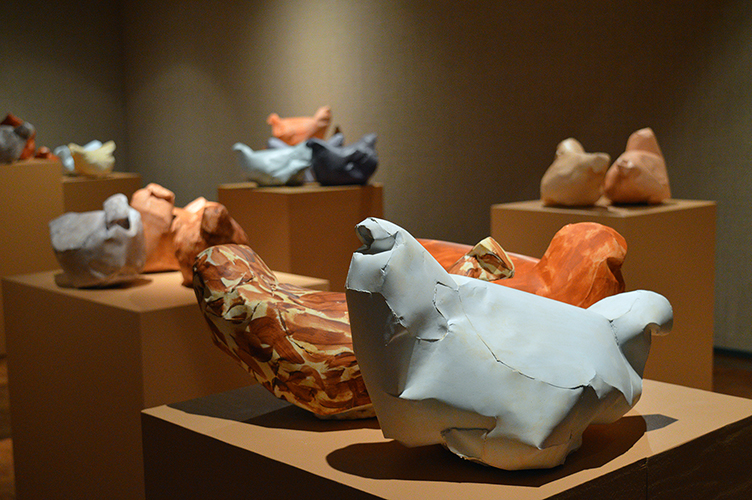 Installation of
Free Range
Plaster, foam, acrylic paint, pedestals
2016
Free Range
is an installation of plaster forms cast from paper molds. In the casting process I cradle the molds in different ways, ensuring each piece is one of a kind. This project continues my investigation into how one material may mimic another. Here, plaster imitates paper (indicated by creases on the surface), while at the same time acting as a record of its own formation, demonstrating the pressure of the liquid setting against the paper form.
In this process-based object making, I look to intersections of abstraction and representation.
En masse
and through repetition, the forms take shape – by depicting a flock, the chicken becomes apparent. I created a number of objects to surround and crowd the viewer, striking a balance between gallery display and organized storage. I want the tight quarters of the installation to indicate not only the life of factory farm hen, but also perhaps a psychological landscape.
The visual metaphor of 'chicken-as-sack' betrays our relationship to these animals, one guided by a market driven search for efficiency in production and consumption of food. Most often the animals are injected with hormones and steroids, bred for maximum size, and left with a short and difficult life. I painted these sculptures in a range of colors reminding me of feathers and meat, simultaneously referencing the inner and outer body of a chicken (both alive and "processed"). I also chose paints with human skin colors in mind, considering the the interplay between consumer and consumed. Yes, we are what we eat. More broadly, we are integrated into the systems that serve us by virtue of our participation.